TL;DR: No. At least in India, it won't.
With that out of the way, let us dive into what an alternative MBA program looks like today, how it is different from a traditional MBA, and the value it brings to you.
What is an Alternative MBA?
Alternative MBA is an idea that revolves around delivering the primary principles of a traditional MBA, along with some of the core non-academic experiences (read: networking), in a shorter span of time (generally 4–24 weeks), for a fee which is 3–5% of that of a traditional MBA.
Disclaimer: We are not talking about "new age" programs such as MBA in Data Science/Technology Management etc.
Market Players include Stoa School (India), ThePowerMBA (Spain), and altMBA (USA), Jolt (USA) etc.
Delivery modes of these programs vary, with some of them choosing Cohort Based Learning, and some choosing Bite Sized learning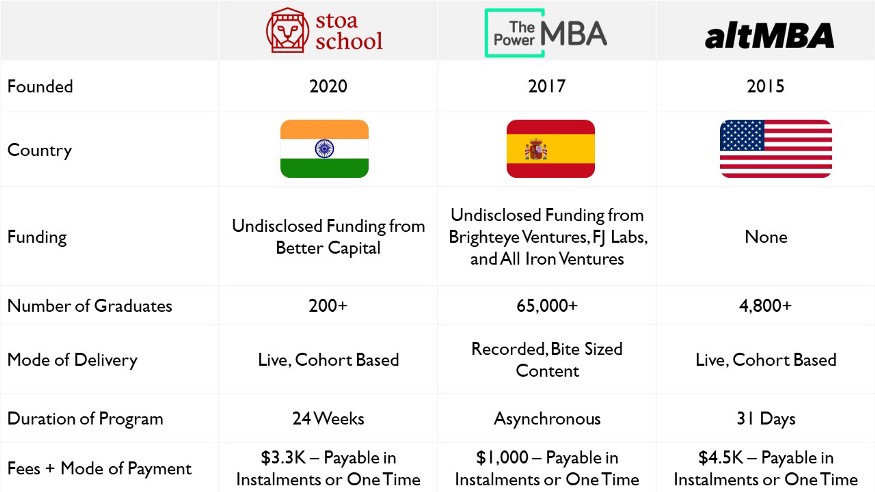 Why Would Somebody Choose an Alternative Program?
The general cons of the traditional MBA that an alternative MBA looks to solve are listed below:
Time During Prep: As traditional MBA entrance programs such as CAT/XAT/IIFT are highly competitive, aspirants sometimes have to take drop years/months to prepare for such exams
Tension During Prep: Since aspirants put so much at stake often, leaving full time jobs, or balance work & study together, this route can be very strenuous and mentally exhausting
Time in College: Traditional MBAs take two years to complete on average
Rigidity of Programs: Accredited institutions cannot basically change the structure of their MBA programs regularly because of the very accreditation. This sometimes disallows them to adapt their programs to the changing needs of the market (not to say that they can not host lessons around Artificial Intelligence, Machine Learning, or any other "xyz new age concept")
Cost of Programs: Traditional Top-Tier MBAs cost anywhere between INR 25 lakhs to INR 40 lakhs (which may not as large of a problem in a country like India where family savings in middle class+ companies are meant for this very purpose)
If you reverse engineer all the problems above, you will identify primary reasons to opt for an Alternative Program (Time Efficiency, Flexibility in Learning, and Affordability).
Alternative MBA: The Business Model
Problem Statement: Traditional MBA is expensive, rigid, time consuming, and a mentally exhausting process
Solution: A quick 4 to 24 week program to teach the basic principles required to be a business leader, along with networking opportunities, and placements, at a fraction of the traditional MBA cost
Unique Value Proposition: Learn in sessions directly from unicorn founders from companies such as Netflix, Zerodha, Udemy, Myntra, etc.
Sources of Revenue: Academic Fee (Payable in Lumpsum or EMI), Sponsor Partnerships (Minor), Placement Fee (potentially, from recruiters, think of it like training costs)
Major Cost Structure: Teaching Faculty / Guest Lecturer Expenses, S&M, Tech Licensing Costs, Content Licensing (if any)
Learner Infra Required: Laptop + Internet
Learner Screening: Learner screening is not as rigid as business schools, and can come from different backgrounds with different levels of priorities around professional development
Physical Learning Potential: Formation of City -Level Communities / Meetups (ThePowerMBA has communities in cities such as London, Manchester, etc.)
Business Model Advantage: The lessons are either live or recorded. Makes learning scalable without large infrastructure investment, i.e., no classrooms, campuses, etc..
Challenges: Difficult to scale programs as cohort sizes increase, will need to increase supply base of quality recruiters, quality control can be a challenge. Limited screening of learners can lead to difference in learner priorities, potentially causing poor peer-to-peer learning, and ultimately cohort quality. Additionally, in India, the IIM/ISB/MBA tag is a not only an educational degree, but a tag of success: lack of certification can continue to be a challenge
Consumer Segments: MBA Aspirants, People Looking to Switch Careers, People Seeking a Promotion, People with Spare Time Looking to Learn
"MBA from IIM/ISB/XLRI/IIFT" Will Probably Still Be a Job Requirement
The MBA ecosystem has a beautifully constructed loop which is being reconstructed by the alternative MBA, without necessarily disrupting the whole ecosystem altogether. Let's call it the "MBA Loop".
How Does the MBA Loop Work?
A twenty something year old has started evaluating their options after completing their undergrad or working for a few years. In their decision matrix, the primary RoI (Return on Investment) indicator is driven by fees, placements, and college rankings.
The aspirant reads that the top ranked colleges in India place students with an average package of INR 25-30 lakhs, with the fees for two year programs also falling somewhere in that range (FMS is laughing somewhere in the capital).
Aspirant then meticulously studies for CAT/XAT/GMAT, and if successful through the results, interviews, and essays, goes on to attend one of the finest business schools in the country.
Recruiters identify young and intelligent talent coming out of India's top B-Schools and offer them packages of INR 25–30 lakhs. Some companies offer packages with CTCs going as high INR 1 crore.
News flows in the market, parents find out about Tier-1 MBA programs, and the next batch of aspirants starts planning its touted MBA journey.
In the loop we showed earlier, there was one missing step. On the periphery of the loop is the "Alternative MBA", waiting, looking to get some of those "High Caliber Students" who either not do not get selected for these "top tier" programs, or simply do not want to spend so much money/time on a traditional MBA.
Alternative Programs like Stoa will also follow a similar loop where they attract good talent, facilitate great learning, and place their fellows at high quality job opportunities (have 72% salary hikes apparently), or better yet; encourage their fellows to start up.
This is not a zero sum game.
Education is not a zero sum market. One disruptor generally does not take the whole market. We have seen this repeat over and over again. Big school chains such as DPS and Ryan came along, but high quality stand alone private schools still exist. Ashoka University and Shiv Nadar have risen, but SRCC and LSR are still the country's top commerce colleges. Byju's and Unacademy are unicorns, but people still trust Allen, T.I.M.E., and Career Launcher.
In the MBA loop, there is some potential for disruption; at the recruiter and cohort level.
You could expect cohort quality to remain a challenge with the Alternative MBA. In one of the programs globally, you can see fellows who have not even completed their undergraduate programs or are anyway on their way to do a traditional B-School program today. This is not to say that you do not see people who come from interesting tech/product/finance/liberal arts backgrounds, but you have to question the priorities of such fellows when they are a part of the cohort.
On the recruitment front, if big shot B-School recruiters such as MBB/Bulge Bracket Investment Banking/ Blue Chip Companies / Tier 1 Startups start recruiting from the Alternative MBA programs, the MBA landscape, might look a whole lot different.
The question is, will they?
Watch this space for more on EdTech, Education, and Everything in Between.