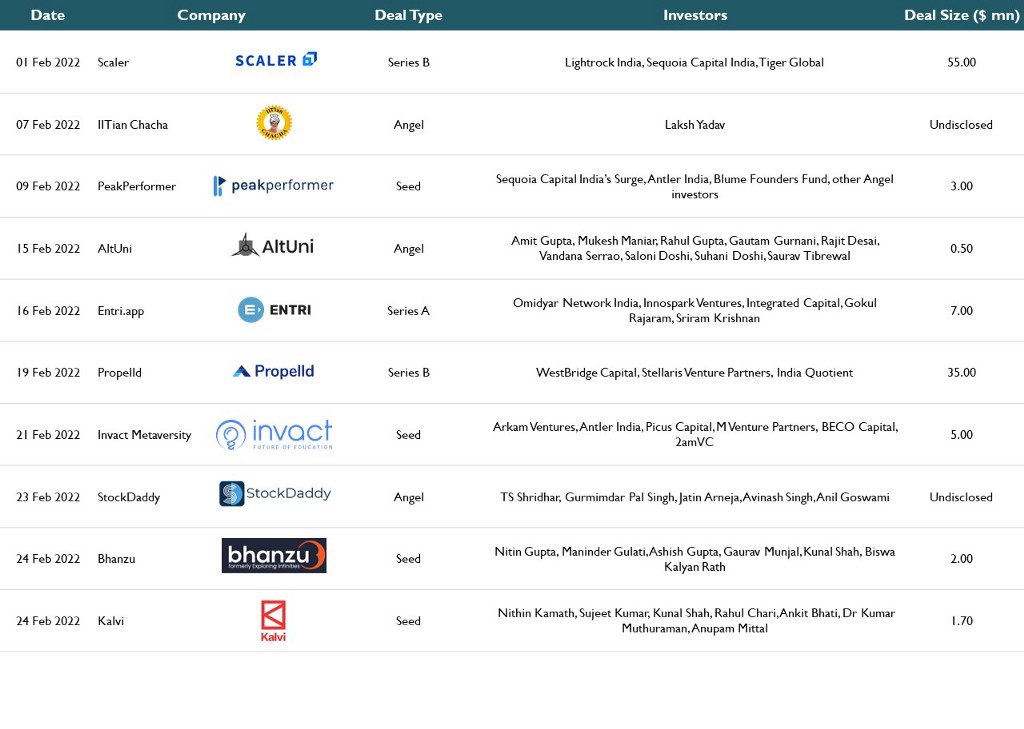 Deals in February & March 2022 LoEstro Advisors
Between February 1st, 2022 and March 31st, 2022; we saw 23 companies in the Indian EdTech space getting funded. Companies that got funded came from diverse segments such as K-12, Test Prep, Leadership Development, Upskilling / Employment, Digital Learning Platform, Education Financing, and Career Guidance.
Who Got A Slice?
February 2022
Picture: Deals in FebruaryScaler (Series B, $55 M): Founded in 2019 by IIIT Hyderabad alums Anshuman Singh and Abhimanyu Saxena, Scaler Academy (along with InterviewBit) offers Live classes delivered by tech leaders and subject matter experts. The round was led by Lightrock India and saw participation from Sequoia Capital India and Tiger GlobalIITian Chacha (Angel, Undisclosed): IITian Chacha was founded by Dushyant Kumar, who is a teacher of chemistry for JEE / NEET and has over 34 million views and over four lakh followers on Youtube. It raised an undisclosed amount from angel investors including Laksh Yadav, Director of the Strategic Advisor of the Sunshine group and the CEO of CocoberryPeakPerformer (Seed, $3 M): Founded in September 2020 by Aishwarya Goel and Nilesh Agarwal, Peakperformer provides leadership coaching for managers at all levels. The round led by Sequoia Capital India's Surge, alongside co-investors Antler India, Blume Founders Fund and angel investorsAltUni (Angel, $500 K): Launched in 2020, AltUni by InsideIIM provides short modules of immersive online learning courses. The round was hosted by few angel investors including Amit Gupta, Mukesh Maniar, Rahul Gupta, Gautam Gurnani, Rajit Desai, Vandana Serrao, Saloni Doshi, Suhani Doshi and Saurav TibrewalEntri.app (Series A, $7 M): Launched in 2017 by Mohammed Hisamuddin and Rahul Ramesh, Entri.app offers 500+ courses in eight languages to help aspirants prepare for different government job exams as well as improve their private job prospects. The round was led by Omidyar Network India and saw participation by Innospark Ventures, Integrated Capital, and angel investors including Gokul Rajaram and Sriram KrishnanPropelld (Series B, $35 M): Founded in 2017 by IIT Madras trio of Bibhu Prasad Das, Victor Senapaty and Brijesh Samantaray, Propelld is an education focused fintech platform. It raised Series B funding round led by WestBridge Capital, along with existing investors Stellaris Venture Partners and India QuotientInvact Metaversity (Seed, $5 M): Founded in 2021 by Manish Maheshwari, along with former Microsoft executive Tanay Pratap, Invact Metaversity is a 3D immersive virtual learning platform. The round was led by Arkam Ventures. Antler India, Picus Capital, M Venture Partners, BECO Capital and 2amVC also participated in the roundStockDaddy (Angel, Undisclosed): Founded in 2021, Gurugram-based StockDaddy is an e-learning application that helps users to learn and develop their skills in the stock market. It raised undisclosed amount from angel investors including TS Shridhar, Gurmimdar Pal Singh, Jatin Arneja, Avinash Singh and Anil GoswamiBhanzu (Seed, $2 M): Founded in 2020 by Neelakantha Bhanu Prakash, Bhanzu is a math-learning platform with a meticulously designed curriculum that helps students become 4x quicker and better at math. The round was led by Lightspeed with participation from angel investors such as Nitin Gupta, Maninder Gulati, Ashish Gupta, Gaurav Munjal, Kunal Shah and Biswa Kalyan RathKalvi (Seed, $1.7 M): Founded in 2021, Kalvi is a disruptive Edtech company, which a mission to transform the future of higher education in technology. The fundraise saw participation from multiple angel investors including Nithin Kamath, Sujeet Kumar, Kunal Shah, Rahul Chari, Ankit Bhati, Dr Kumar Muthuraman and Anupam Mittal
March 2022
Picture: Deals in MarchENGG Online (Pre Series A, $3.5 M): Founded in 2005, ENGG Online is a SaaS-based platform for tutors / trainers with a unique pedagogy of experiential learning using augmented and virtual reality. Investors for the round include Kirti Doshi, Sanjay Dangi, Anurag Jain, Kishore Shah, P S Jayakumar, Prem Rajani, Akshay Gupta and N JayakumarFilo (Series A, $23 M): Launched in 2020, Filo is an Instant live tutoring startup founded by serial entrepreneurs Imbesat Ahmad, Shadman Anwer, and Rohit Kumar. The round was led by Anthos Capital. It also saw participation from existing investor Better Capital along with GSV, Sapling Capital, and individual investors including Gokul Rajaram, Rob Frohwein, Mate Pencz, Florian Hagenbuch and Ross LipsonApplied Roots (M&A, $50 M): Founded in 2017, Applied Roots is an online learning platform founded by Srikanth Varma Chekuri, Murali Krishna Varri, Naveen Reddy Bade, Brahma Reddy, Srinivas Reddy, and Satish Atcha. Tech upskilling startup Scaler acquired Applied Roots to scale up its data science, AI and ML programs to a wider base of tech learnersEruditus (Debt, $350 M): Founded in 2010, Edtech unicorn Eruditus raised debt capital from Canada Pension Plan Investment Board's credit arm to invest in M&As to expand its global footprintMentor Match (Pre Seed, $1 M): Founded in 2020, Mentor Match is a self-study platform that helps students of classes 8–12 connect directly with expert tutors instantly through a 1 on 1 live video call. The round was backed by Sapient Fund, a US-based seed-stage venture fund led by Karthik SundaramByju's (PE Round, $800 M): BYJU'S is India's biggest Edtech startup that develops personalized learning programs for K-12 students. Raised a fresh $800 million in funding from a clutch of investors including Sumeru Ventures, Vitruvian Partners, and BlackRock. Founder & CEO Byju Raveendran also backed the investment, infusing about $400 M into the company in personal capacityKiCo (Angel, $1 M): Co-founded by Gunjan Chowdhary, Amit Gautam, Gaurav Chowdhary, and Saurabh Pandey in 2021, KiCo is formed by the two words which carry the legacy of the Indian Education System since ages, KITAAB and COPY. It raised funds in an angel investment round for which investors were not disclosedUppskill (Pre Seed, $1 M): Founded in 2017 by Arbab Usmani and Abhishek Kumar Gupta, Uppskill is a skill-based educational platform that changes the way people learn and develop skills required to acquire jobs or help them directly in their businesses. Ok! Acquired, a Bengaluru-headquartered investment tech firm invested in the current roundKidEx (Seed, $1 M): KidEx is a data-driven digital platform that offers classes and conducts competitions for children such as extracurriculars, co-curricular activities, life skills, to enable their holistic development. It was co-founded by Amritanshu Kumar, Kapish Saraf and Gaurav Sengar in 2020. The round was led by Lead Angels Fund. Other notable investors include BCG, PayU and 10ClubLeverage Edu (Series B, $22 M): Started in April 2017 by Akshay Chaturvedi, LeverageEdu's core business helps universities in the developed world, bring onboard students from the emerging world. The round saw participation from Kaizenvest Private Equity, DSP Mutual Fund Group, Artha Ventures, UAE-based NB Ventures, 9Unicorns, Blume Ventures, DSG Consumer Partners, Tomorrow Capital, Chona Group, FMCG player Vicco, Mankind Pharma, Trifecta Ventures and Bennett ColemanSaarthi Pedagogy (Pre Series A, $2.1 M): Founded by Sushil Agrawal, Saarthi Pedagogy serves schools as an academic growth partner providing them with 360° solutions on academic content. The round saw investments from Pinnacle InvestmentsClassPlus (Series D, $70 M): Founded in 2018 by Mukul Rustagi and Bhaswat Agarwal, Classplus is a mobile-first SaaS platform that allows educators and content creators to build their online presence, digitize their offline tuition centers and sell their courses online. The round was backed by Alpha Wave Global, Tiger Global Management and Chimera VenturesSeekho.ai (Pre Series A, $3 M): Launched in April 2021 by Divya Jain, Ajeet Singh Kushwaha, and Arihant Jain, Seekho.ai helps job seekers get into the field of marketing, finance, analytics, product, and succeed in the dynamic world of work. The round saw participation from the family office of the JM Financial Group, LetsVenture, Trica, Super Morpheus, Yuj Ventures, Sequoia Capital India's Surge, and angel investors including Varsha Rao and Amit Ranjan
Globally, CoLearn (K-12), Studytube (Upskilling / Employment), Excel @ Uni (Career Guidance), AmazingTalker (Tutoring K-12), Playbook (Upskilling), Cialfo (Career Guidance), Perlego (Digital Learning), Subject (Digital Learning), Edurino (Early Education) and Shikho (Digital Learning) raised capital.
Watch this space for more EdTech, Education, and everything in between.
Deals in February & March 2022 was originally published in LoEstro Advisors on Medium, where people are continuing the conversation by highlighting and responding to this story.