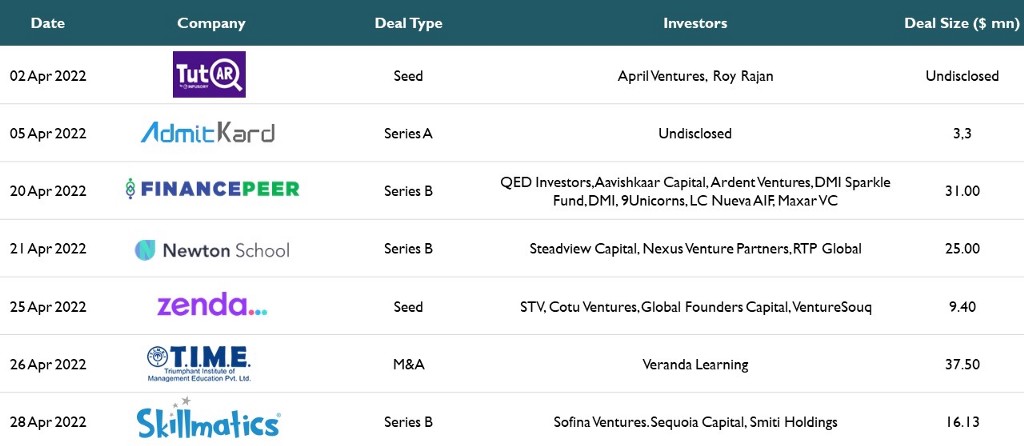 This Week in Deals — April LoEstro Advisors
This Week in Deals — April 2022
Between April 1, 2022 and April 30, 2022; we saw seven companies in the Indian EdTech space getting funded/acquired. Companies that got funded came from diverse segments such as Test Prep, Upskilling, Education Financing, and Early Education.
Who Got A Slice?
TutAR (Seed, Undisclosed): TutAR enables teachers to use AR models in online and offline classes using its app. Its app is available for Android, iOS, MacOS and Windows users. The undisclosed round was led by April Ventures and Roy Rajan.AdmitKard (Series A, $3.3 Million): AdmitKard is a college counselling startup that helps students apply to universities and colleges in countries including US, UK, Canada, Australia, and New Zealand. The $3.3M was raised from an undisclosed set of investors.Financepeer (Series B, $31 Million): Financepeer offers digital-enabled financing solutions through institutional partnerships to students seeking credit support for fee payment, for institutions such as pre-schools, K-12, colleges, universities, offline test prep, edtech and skilling. The Series B funding was led by QED Investors and Aavishkaar Capital, with participation from Ardent Ventures, DMI Sparkle Fund , DMI, 9Unicorns , LC Nueva AIF, and Maxar VC.Newton School (Series B, $25 Million): Newton School offers online bootcamps in full-stack web development, for freshers and working professionals. The round was led by Steadview Capital, with participation from Nexus Venture Partners and RTP Global.Zenda (Seed, $9.4 Million): School fee platform with Pay-now and Pay-later facilities, and reward programmes. The round included STV, Cotu Ventures, Global Founders Capital and VentureSouq.T.I.M.E. (M&A, $37.5 Million): T.I.M.E. offers training programmes for national and state-level entrance exams like CAT, MAT, CMAT, CLAT, IIT Foundation, JEE mains and advanced, NEET, IPM, BBA, CUET, GATE, Bank PO, SSC, State-level admission exams and international exams like GMAT, GRE, IELTS and TOEFL including campus recruitment training. The company was acquired by Chennai-headquartered Veranda Learning.Skillmatics (Series B, $16.1 Million): Skillmatics offers educational products in three categories — learning resources, educational games, and STEM toys. The round was led by led by Sofina Ventures. Existing investors Sequoia Capital and Smiti Holdings also participated in the Series B round
Globally, Gguge (K-12), Queros (Upskilling), OneDay (Teaching Infra), and Akadasia (Upskilling) raised funding.
Pearson acquired Mondly, a global online language learning platform.
Watch this space for more on EdTech, Education, and everything in between.
This Week in Deals — April was originally published in LoEstro Advisors on Medium, where people are continuing the conversation by highlighting and responding to this story.