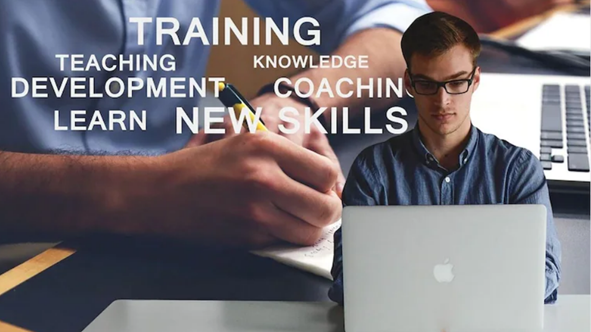 Upskilling…A Necessary Evil? LoEstro Advisors
Does this guy look familiar to you? He also comes with a caption — "Confused with excel sheets, join our pre-recorded courses on our platform…," "Become the hero at your workplace by taking this course…"
This guy proves that "all the struggles of life end with getting a job" is a myth. With advent of pandemic, advertisements from learning platforms have significantly increased. There is a plethora of platforms providing upskilling courses including metaverse, blockchain technology, data science, finance, graphic design, creative writing, marketing, instrument learning, personality development and the list goes on! These online learning platforms provide the ease and accessibility to the users to consume content from anywhere. But why do we need them?
"The internet is becoming the town square for the global village tomorrow." — Bill Gates
Absolutely true, we have become completely depended on internet for everything in our lives — from paying the milk man via GPay & PhonePe, depending on Big Basket & Amazon for the delivery of our groceries to working from home for forever now. Likewise, we have started to depend a lot on virtual content for upskilling ourselves which has become an evil necessity because of the changing dynamics of the job market demand.
Wasn't it Long Due?
Online learning was long due, but the pandemic just preponed the plans of the entire world to be present more virtually. It created a hustle environment wherein people are trying to keep up the speed of the virtual world by upskilling themselves with whatever is available out there on the internet — to either get a job, for career growth, industry transition or to upskill themselves just to escape the fear of missing out (a.k.a FOMO).
No one was ready, it took time for everyone to digest the fact that the pandemic is not going anywhere. Huge corporations, mid-sized companies, SMEs, higher education institutions, colleges, schools, think tanks, government offices, every institution, apart from healthcare, had to resort to online world to keep operating.
We learnt it eventually. Everyone has resorted to virtual world — students from schools and colleges are attending classes in a hybrid model wherein they attend classes from home as well as college, employees have been provided with hybrid model comprising of work from home as well as office. But this uncomfortable freedom change was long due — to operate from anywhere with access to everything in the world.
Pro — Investment Upskilling
Upskilling is made imperative for getting a job and to get up the hierarchical ladder. This puts an individual in an uncomfortable situation, because this requires the individual to put in both time & money. Now the question arises — how much of an investment is required to get a job? A 2-year MBA worth INR 35 Lakhs — INR 60 Lakh from a top-notch college and attending online classes or attending pre-recorded sessions on management from online learning platforms like Udemy, Coursera, Khan Academy, LinkedIn learning worth ranging from as low as INR 500 to as high as INR 1.5–2L with lifetime accessibility to umpteenth number of courses?
According to PN Sudarshan, Partner at Deloitte India — pricing is a crucial factor in a country like India, as a $5,000 (~3.8 L) course would be unaffordable for most Indian professionals but the same course at $2,000 (about ~1.5 lakh) is often doable.
UpGrad offers 10 MBA courses in partnership with Indian and International institutes with courses ranging from INR 50K to INR 1.5L — which is a price range affordable by many. Offering students with a one-year LLM programme in Corporate and Financial Law in partnership with Jindal Global Law School makes the platform an attraction for professionals who want to the same at their own ease.
Fundamental Shift — Maybe, Maybe not
Can we expect a fundamental shift in education — wherein people would rather upskill themselves and cope up with the ever-increasing demands of skills in the job market than go for 15+2 or 16+2 years of traditional education?
In a report "Upskilling Outlook in India 2022" published by Great Learning[1] — a survey revealed that 79% of professional including pupils fresh out from college plan to upskill themselves irrespective of their background to adapt with the new job market domains. Professionals with backgrounds from IT, banking, consulting, education & training are looking forward to upskilling themselves in 2022.
The report mentioned that the highest intent for upskilling was showed by professionals from tier 1 cities including Mumbai, Delhi, Hyderabad, Bengaluru, Pune, and Chennai. And amongst tier 2 & 3 cities were Nagpur, Ernakulam, Mysuru, Jaipur and Indore.
Another report published by McKinsey Global Institute in 2021 stated that ~18 million would be needing to switch occupations by 2030 because of the shifting dynamics of workplaces and with increasing new positions. Upskilling has become important for maintaining competency in the job market.
On Coursera, 2020 saw huge jump in both registered and enrolment numbers on the platform: –
Source: Coursera
And we can only expect these numbers to grow in the future.
The Great Skill Gap
COVID19 also heightened the issue of employability and made it a non-negotiable for professionals to upskill and build up a strong job profile. Fresh graduates encountered a dry hiring season, wherein the employers expected them to have skills equivalent to a candidate with 2–3 years of experience. The ask of experience, straight off took away the chance from people with no experience of getting a job.
According to India Skills Report 2022, employability remains a challenge due to the gap between existing skills and industry requirements. The unemployability rate amongst Indian youth stood at 54.1% in 2021 as opposed to 53.79% 2020.
Current global workforce stands at 255 Mn and World Economic Forum stated that at least 133 Mn new job roles will emerge by end of 2022. It would require more than half (~130 Mn) of the workforce to upskill themselves.
There always has been a gap between the current existing traditional education system and requirements of industry standards. Fresh graduates have faced the issue of work readiness because the skill requirements in the job industry never have been taken care by either schools or colleges. The lack of institutional guidance has also led to a huge demand of upskilling programmes on the online learning programmes.
The companies are now shifting to change their way of recruitment by adopting hire — train — deploy model wherein they hire the employees, train them and the deploy them to the various departments under the organization for absorption of the hired resource. Companies are looking for customized courses that help employees gain skills that align with the skill requirements of the organisation. This not only brings efficiency in the workflow of the organisation but also impacts the culture and work satisfaction of an individual. Companies that focus on the growth of their employees also tend to retain their employees for longer tenure.
Can Upskilling Disrupt Higher Education?
The formal years of education include a 12-years of primary education and 3 or 4 years of higher education. Companies expect an individual to be at least a graduate for an entry-level job. The reason we see ~4 Cr graduates each year pursuing a tradition 3 — years or 4 — years of bachelors. It is seldom that we find someone dropping out of college out of interest. Going to college for higher education has been made a necessary evil for getting a job, unless pecuniary or other circumstances being considered.
But in the future, can we expect the upcoming generation to drop out of college or even consider going to college?
We talked to one of the CEOs of upskilling online coding platforms — Arun Prakash — and asked his views on upskilling disrupting the current formal years of education.
"The disruption of higher education will happen in two phases — people will acquire basic degrees to become eligible for industry jobs, and in tandem they will resort to upskilling platforms to increase their competency. People will eventually give more importance to upskilling than formal education.
It is because of the industry standards that people go for having a minimum of 3- or 4-year degree, but once the upskilling platforms enters the application-based education, there is a 100% chance that higher education space will get disrupted. Most of the product companies, start-ups have already started to look for skills than degrees while recruiting; the only bottleneck in India currently are the service companies who still resort to degree-based resumes, but that too we can expect to change in 5 to 7 years."
Are we moving towards "Fast — Education?"
Just like fast fashion — wherein clothes have a shelf life of 3–4 months — would upskilling culture lead to fast education era? Would people pick up an affordable 2 to 3 months of tenured courses to bridge their skill gaps and not go ahead for hefty course degrees?
Two things can happen — either the current education system will adapt to fast education including upskilling courses and making it an imperative tool to progress academically & professionally. Or people will resort to upskilling than spending on formal years of education.
Either way — upskilling will become a necessary evil to survive.
Reference:-
https://www.financialexpress.com/brandwagon/upskilling-apps-tap-into-indias-white-collar-workforce/2253095/https://d1m75rqqgidzqn.cloudfront.net/wp-data/2022/02/11195401/Upskilling_Outlook_Feb-4.pdfhttps://www.indiatoday.in/education-today/featurephilia/story/why-are-upskilling-courses-witnessing-a-big-push-in-the-indian-education-sector-1800484-2021-05-09https://wheebox.com/assets/pdf/ISR_Report_2022.pdf