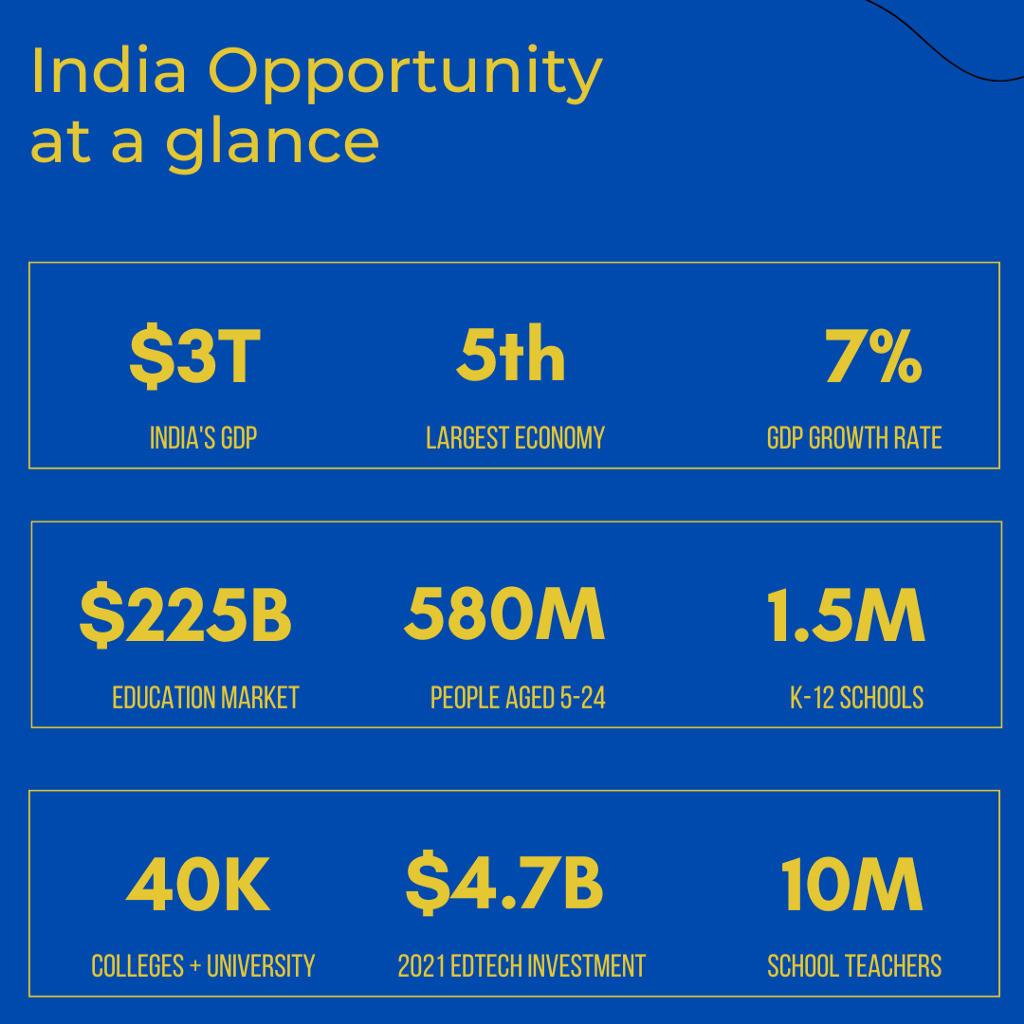 The India Playground: How Foreign Education Companies Need to Play to Win
Whenever the above slide gets flashed at the boardroom of any global EdTech company, there is near certainty it will trigger a discussion. Combine the above with the relatively supportive regulatory environment — the opportunity becomes too lucrative to ignore. At the worst the discussion would result into lets figure out what is needed to win in the Indian Market and at the best it is about the immediate action to enter the market.
Coursera, Udemy, Chegg, Pearson, Nord Anglia Education, Cognita, ByteDance, YuanFudao, Joyy are amongst a number of global companies which have entered the Indian Education market in the last 5 years or so. Some of them successfully, some not so.
The Education Landscape
Education experts, including us, are lazy when we paint the entire sector with the same brush. At the core of it the sector is a loose aggregation of multiple subsectors — each with its own macro and micro-trends, each with its own consumer preferences (the sector deals with learners from cradle to coffin), regulation intensity, capital requirement and so on and so forth.
On one side you have the formal education system, including schools and universities — which is highly regulated, requires significant upfront investment, has long gestation periods but has low volatility and predictable cashflows. On the other side there are consumer edtech businesses which are relatively less regulated, highly scalable, require significant product-market fit and are relatively riskier.
Understanding the trends, challenges, and the critical success factors for the subsegment that a business operates in is critical in devising the winning strategy. Some which are more regulated might lean toward acquisition, some others could gravitate towards partnerships while others could have direct entry as the preferred path.
Source: KMPG
The Case Studies
It takes a wise man to learn from his mistakes, It takes an even wiser man to learn from the mistakes of others
With a flatter world there have been dozens of education companies which have successfully entered the India Market and vice versa. We will double click on few of those market entries to understand and synthesize learnings from their strategy.
Coursera's Organic Entry
Coursera started offering it programs in India immediately after starting up in 2012. The programs were tailormade for the US market but were relevant for the Indian audience as well — this enabled the company to build its brand slowly but steadily. Only in the last few years the company set up its India office, started partnering with Indian institutions like ISB to offer their courses and with companies like PWC, Tally and others to distribute their courses.
Today Coursera has 17 Million subscribers in India and is growing at 34% annually — India which currently stands at No 2, is expected to be Coursera's largest market soon. Clearly the company has surpassed its own expectation and is doubling down on the India opportunity.
Globally relevant product, Similar customer preferences, phased wise entry and eventually localizing the offering are some factors which delivered success for Coursera.Kidsloop Partnership with Chrysalis
Founded in 2011, KidsLoop is a global EdTech company with principal offices in Hong Kong, Seoul, Shanghai, and London. The KidsLoop vision is to transform early years education by providing the tools and asset libraries to digitize contents, collect data, and create personalized learning paths for every student. The company entered into the India market and partnered with Chrysalis, an edtech company which offers research-based curriculum to 1000+ Schools in India.
Chrysalis's content and Kidsloop's technology is expected to be a winning combination for the Indian Market. The partnership has already made inroads with large school operators in the country.Nord Anglia Education's Acquisition of People Combine
Nord Anglia Education is one of the largest operator of K-12 schools globally. The company has 79 schools across 31 countries. The company entered Indian market through its acquisition of People Combine / 5 campuses of Oakridge International School. Oakridge International is one of the most scaled premium K-12 international school chains in India and served as a good starting point for Nord Anglia's India entry.
Given the regulatory ecosystem around formal education, high capex and gestation period — acquisition turned out to be a winning strategy in this case. Many other operators in K-12 including Cognita, International School Partnerships and others have made entry in the Indian market through acquisitions.
The So What?
While the opportunity that India presents to global edtechs is promising, unless played strategically the market could be challenging to win. Here are some of our findings on how to win the Indian market:
1. Be an Insider — Put your Eyes and Ears on the market
India is a complex and diverse market- Consumer behavior here is very different than the rest of the world. Propensity and willingness to pay, Cultural biases, diversity in income levels, education levels and backgrounds makes it difficult to comprehend. Add to this increased competition from Indian education companies, its important that foreign companies stay glued to the Indian market, connected to the local education ecosystem, visit physically and be in the space to become an insider.
2. Choose your Market Segment and Entry Strategy
Different market segments have different play rules. Check the segment that your offering belongs to — formal vs informal, B2B vs B2C, price points, customer behaviour and preferences and accordingly carve out your rules of play.
Formal Education: Acquisitions work best for formal education space which are highly regulated, require significant capital and have long gestation. Higher Education and K-12 have seen most entries through this mechanism. Academic and Franchisee partnerships are other mechanism to softly enter the country in the formal education space.B2B Product and Services: Strategic partnerships with local operators either through long term contracts, Joint ventures or revenue sharing are typically the preferred way that companies have used in this space. The local partner should be able to add complementarity to the offering, help in localization and distribution of the product as stand-alone or as part of a portfolioB2C Product and Services: Companies like Coursera, Udemy, Chegg etc have entered the market directly on back of solid product offering and global brand names. However others have acquired or even entered in partnerships with local companies for their India foray. The choice here depends on the offering gap between what the consumer wants and what the offering provides.
3. Localize significantly
Expanding into India requires heavy localization, including content, features, payment, etc. Companies might also need to localize or re-develop their product significantly as the user scenarios might be different in India. India is land of tens of different languages beyond English and the education philosophy could be very different and hence the need to localize. This could be expensive.
4. Find the new market-product fit
The biggest mistake that companies do is probably to just launch their product in India and to hope it will grow as it is in their home market. Given the existing products in India and different customer demands, the competitive advantage would be different. It is very important to test, experiment and to find the new market-product fit for the local market.
5. Manage Expectations
The market size and initial encounter with India would probably give a ton of excitement, along with unrealistic expectation. Though rewards from India market could be very huge, it is important to be cognitive of the complexity of the market and the resources and commitment companies need to allocate if they wish to win India.
Watch this space for more on Education, EdTech, and everything in between.
The India Playground: How Foreign Education Companies Need to Play to Win was originally published in LoEstro Advisors on Medium, where people are continuing the conversation by highlighting and responding to this story.