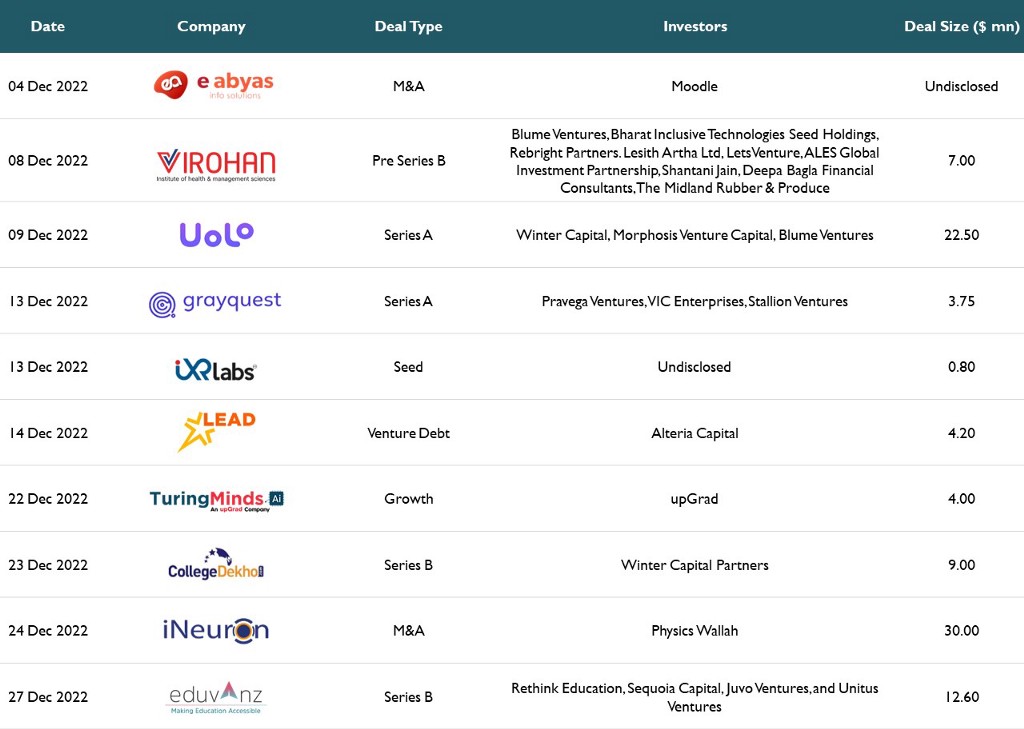 This Week in Deals — December 2022
This Week in Deals — December 2022
Between December 1, 2022 and December 31, 2022, we 10 companies in the Indian EdTech ecosystem getting funded or acquired. The companies came from spaces such as FinTech, SaaS (ERP/LMS), Upskilling, and Higher Education.
Who Got a Slice?
eAbyas (M&A, Undisclosed): Provider of E-Learning Services like development, support, theme and integrations to institutions and corporates. The company was acquired by Australia-based Moodle.Virohan (Pre Series B, $7 Million): Virohan provides healthcare vocational training to students for aspirants in the healthcare industry. It operates hybrid classrooms at campuses and online training across India in cities including Delhi, Faridabad, Pune, Raipur, Meerut, and Nagpur. The round was led by Blume Ventures, with participation from Bharat Inclusive Technologies Seed Holdings, Rebright Partners. Lesith Artha Ltd, LetsVenture, ALES Global Investment Partnership, Shantani Jain, Deepa Bagla Financial Consultants, and The Midland Rubber & Produce.Uolo (Series A, $22.5 Million): Provider of a parent-teacher communication software and an enterprise resource planning (ERP) management solution. The company raised its Series A round from Winter Capital. Morphosis Venture Capital and Blume Ventures participated in the round.Grayquest (Series A, $3.75 Million): Fee collection platform for educational institutions allowing parents to pay fees in flexible monthly installments with zero interest. Pravega Ventures led the Series A round, with participation from VIC Enterprises and Stallion Ventures.iXrLabs (Seed, $800K): Provider of VR Labs for schools and higher education institutions. The company raised $800,000 from an undisclosed investor.Lead School (Venture Debt, $4.2 Million): B2B(2C) startup providing software, hardware curriculum, books, a school kit, and training sessions to schools and students. Alteria Capital provided the venture debt funding to the startup.TuringMinds (Growth, $4 Million): TuringMinds is a training and education provider in Artificial Intelligence and Machine Learning. upGrad invested close to INR 30 crore in its investee company for further growth.CollegeDekho (Series B, $9 Million): CollegeDekho is a platform for students to explore higher education opportunities and for universities to connect with students. The company specialises in education, college admission, university admission, student counselling, competitive exam preparation, and one-click education solution. The round was led by Winter Capital.iNeuron* (M&A, $30 Million): iNeuron provides affordable courses in coding and programming, for aspirants and experienced professionals. The company was acquired by Physics Wallah, for the launch of its upskilling division, PW Skills.Eduvanz (Series B, $12.6 Million): Eduvanz is an online marketplace for education loans. The company's Series B round was led by Rethink Education, with participation from Sequoia Capital , Juvo Ventures, and Unitus Ventures.
*LoEstro acted as the exclusive financial advisor to iNeuron on its acquisition by Physics Wallah.
Watch this space for more on EdTech, Education, and everything in between.
This Week in Deals — December 2022 was originally published in LoEstro Advisors on Medium, where people are continuing the conversation by highlighting and responding to this story.