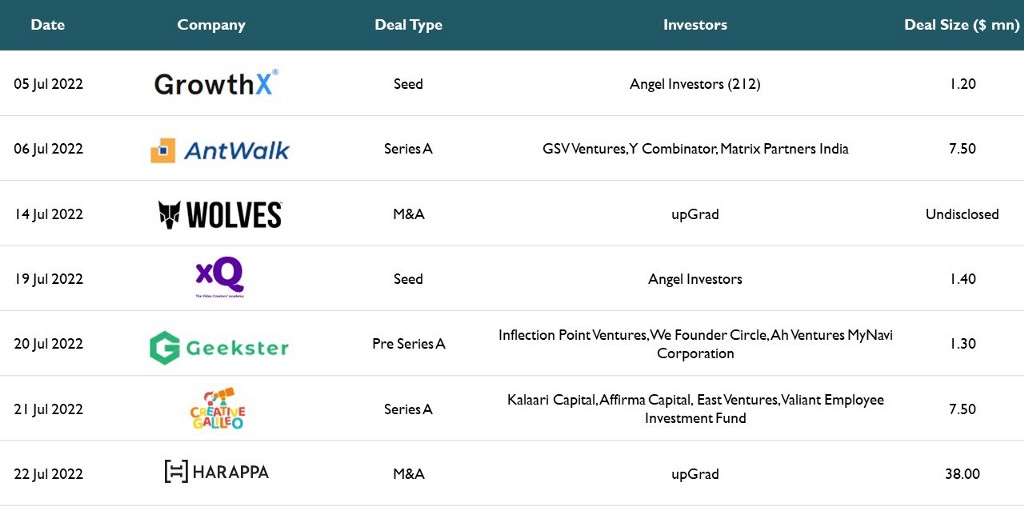 This Week in Deals — July
This Week in Deals — July
Between July 1, 2022 and July 31, 2022; we saw 7 companies in the Indian EdTech space getting funded. Companies that got funded came from diverse segments such as Upskilling, Staffing, K-12, and Early Education.
Who Got A Slice?
GrowthX (Seed, $1.2 Million): GrowthX provides cohort based programs where they teach growth frameworks, networking with top talent, mentor led learning, job opportunities in breakout roles, quora for growth, personal branding and access to hire top talent. The company raised its seed round from 212 angel investors, leaders and operators across companies like Razorpay, Airbnb, Mamaearth, Meesho, Myntra, and Freshworks.AntWalk (Series A, $7.5 Million): AntWalk is an enterprise learning and development company, teaching through live group sessions, one-on-one coaching, and gamified content. The Series A round was led by GSV Ventures with participation from Y Combinator and Matrix Partners.Wolves India (M&A, Undisclosed): Wolves India is a specialised tech talent placement company working with startups, along with mid and large-sized organisations in India and overseas. upGrad Rekrut acquired Wolves India for an undisclosed sum.xQ (Seed, $1.4 Million): xQ offers courses in video creation in collaboration with professional filmmakers, educators and advertising professionals. The company raised its seed round from a group of HNI investors.Geekster (Pre Series A, $1.3 Million): Geekster is an upskilling company offering courses in tech. The pre-Series A round was led by Inflection Point Ventures. Other investors such as We Founder Circle, Ah Ventures, and MyNavi Corporation also participated.Creative Galileo (Series A, $7.5 Million): Creative Galileo is a character-based early learning platform for kids aged 3–10 years. The Series A round was led by Kalaari Capital, with participation Affirma Capital, East Ventures, Valiant Employee Investment Fund, and angel investors.Harappa Education (M&A, $38 Million): Harappa Education offers self-paced courses to employees of corporates. upGrad acquired Harappa Education for $38 million in a cash and stock deal.
Globally, Growloop (Leadership Coaching), APDS (Career Readiness), AIGooru (Tutor Matching), and Twenix (Professiona Language Learning) raised funds.
Watch this space for more EdTech, Education, and everything in between.
This Week in Deals — July was originally published in LoEstro Advisors on Medium, where people are continuing the conversation by highlighting and responding to this story.