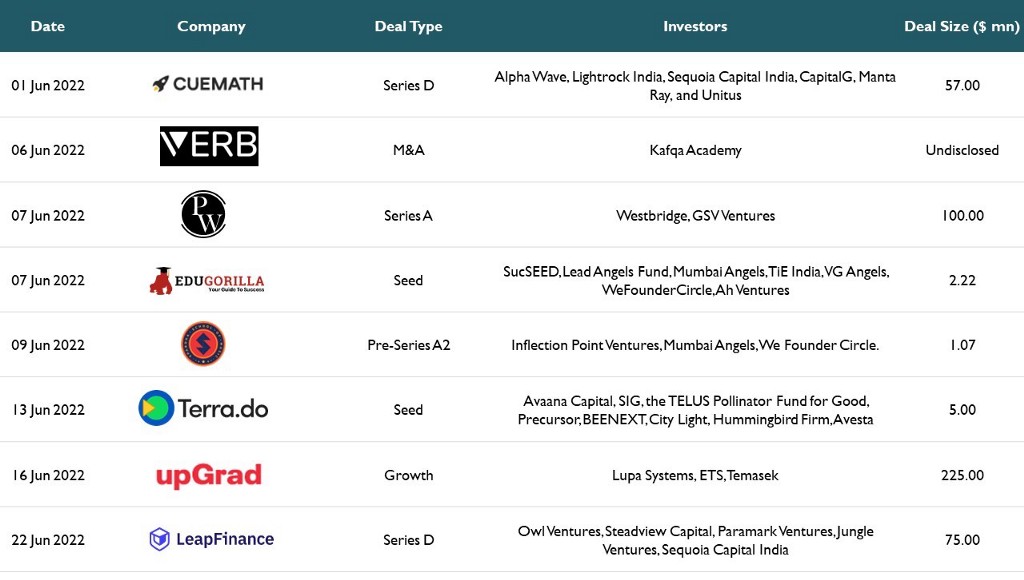 This Week in Deals — June
This Week in Deals — June
Between June 1, 2022 and June 30, 2022; we saw 8 companies in the Indian EdTech space getting funded. Companies that got funded came from diverse segments such as K-12, Test Prep, Upskilling / Reskilling, Hobbies, and Career Guidance.
Who Got A Slice?
Cuemath (Series D, $57 Million): Cuemath offers Math learning programs to students for students in grades KG to 12th. The funding round was led by Alpha Wave Global at a valuation of $407 million with participation from Lightrock India, Sequoia Capital India, Alphabet independent growth fund CapitalG, Manta Ray, and UnitusVerb Studio (M&A, Undisclosed): Verb Studio is an online dance academy in India. The company was acquired by Kafqa AcademyPhysics Wallah (Series A, $100 Million): PW offers programme that help students prepare for engineering and medical entrance exams by providing them with affordable guidance. The company raised $100 million from Westbridge and GSV VenturesEduGorilla (Seed, $2.2 Million): EduGorilla is an edtech company that offers online test series, video classes and books for state-level and lesser-known exams. The round was led by SucSEED Indovation Fund and witnessed participation from Lead Angels Fund, Mumbai Angels, TiE India, VG Angels, WeFounderCircle, Ah VenturesSpardha (Pre-Series A2, $1.1 Million): Spardha is a digital training platform that offers personalized trainer-assisted online lessons in music.
The round was led by Inflection Point Ventures, with participation from Mumbai Angels and We Founder CircleTerra.do (Seed, $5 Million): Terra.do is a global climate career platform that offers cohort-based learning programmes, ranging from complete climate landscape overviews to deep dives into venture capital investing in climate, climate-resilient agriculture. The round was led by Avaana Capital, and included participation from SIG, the TELUS Pollinator Fund for Good, Precursor, BEENEXT, City Light, Hummingbird Firm, and AvestaupGrad (Growth, $225 Million): upGrad is an online higher education company providing programs in Data Science, Technology, Management and Law, to students, working professionals and enterprises. The round was led by Lupa Systems, Educational Testing Service, the family offices of Lakshmi Mittal, and Sunil Bharti MittalLeap Finance (Series D, $75 Million): Leap offers counselling services, visa services, education loans and other financial products for international students. Leap's online community helps students evaluate career options, network with seniors and shortlist courses. The company raised $75 million in a round led by Owl Ventures. The round also saw participation from Steadview Capital and Paramark Ventures, along with existing investors Jungle Ventures and Sequoia Capital India
Globally, Pok Pok (Digital Learning), GOMYCODE (Coding/Upskilling), BibliU (Learning Enablement), Go1 (Learning Content), and Multiverse (Apprenticeships) raised funds.
Watch this space for more EdTech, Education, and everything in between.
This Week in Deals — June was originally published in LoEstro Advisors on Medium, where people are continuing the conversation by highlighting and responding to this story.